Hey Golden Demon lovers!
Just a very quick and enthusiastic evening update. An important one!
The illustrious Rafa "Volomir" García Marín in his capacity as 'Marín Especial' of the Galactic President's Special Task Force has just posted good news on his blog.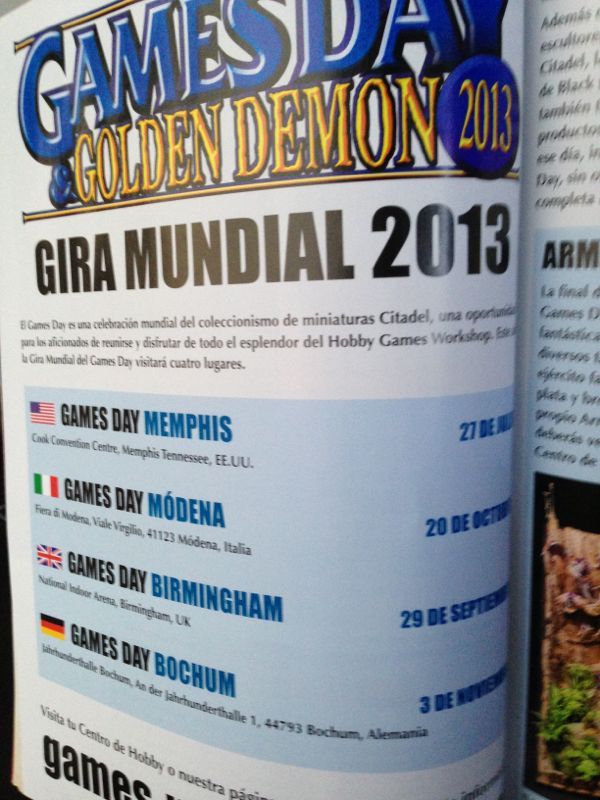 What we knew:
A picture from this Saturday's White Dwarf confirms the Date for the yet missing Games Days UK and Italy!
As we already knew the US Games Day 2013 will take place on July 27th in Memphis, Tennessee (and we are sooooo GOING yeeeehaaaaaw!)
We also knew that the German Games Day will take place on August 11th in Cologne (and we already knew that the White Dwarf would have both date and location wrong :P)
What we didn't know
What we did NOT know yet were the dates for the Italian and UK Games Days, so here they are:
- GD UK: September 29th, Birmingham NEC NIA.
- GD Italy: October 20th, Módena, Italy.
Update: Good News! The Euromilitaire 2013 in Folkstone will be September 21-22 this year, a week before GD UK and not on the same day as in 2012....

Update 2: New GD UK Rumors

ROOOOOOADTRIP! :D
What we are missing
Games Day Japan is not announced in the White Dwarf... DON'T TELL ME IT HAS BEEN CANCELLED!
Are you ready to win a Golden Demon?
If you feel you are not quite good enough to win a Golden Demon, why not win a free workshop with someone who has already won the SLAYER SWORD?
You might also want to subscribe as next week we will have a VERY SPECIAL giveaway...
Yay! More giveaways!